Trailer for Amy Shojai's thriller Lost and Found. Check out the advance praise at the end! 
In honor of today's release of her latest book, we're back this week with Part Two of our interview with bestselling author Amy Shojai. Amy's brought her enormous knowledge of pets and animal behavior to bear on her first novel, Lost and Found. This thriller has a breathtaking premise:  An autism cure will KILL MILLIONS unless a service dog and his trainer find a missing child…in 24 hours. I've already read the free excerpt, and that alone was enough to get me into the story. Now I'm getting ready to read the whole book (Full disclosure: Amy has provided me with an advance reader eCopy for review). Can't wait to dig into it!
But meanwhile, let's learn more about the author's writing process and thoughts about this, her first thriller. We left off Part I talking about the book's characters: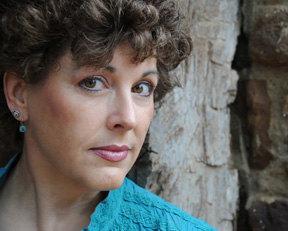 Me:  Speaking of characters, which do you consider the protagonist of this story: September? Steven? Shadow?
Amy: The main character is September. Shadow is very much the secondary main character.
Me:  And I have to ask: How did you come up with the September character? Is she your alter-ego, and should we expect to see more of her?
Amy:  LOL! I attended the awesome writers conference Thrillerfest this past year and sat in on some terrific seminars presented by bestselling thriller authors. Lee Child commented that in his experience, most protagonists seem to be written as someone better looking, more athletic, taller, thinner, and smarter. Yes, there are parts of September that are similar to me, such as her love of animals and passion for them. But she's more athletic, taller, thinner, smarter–and younger than me. Oh, and she doesn't like bling. Pity.
Yes, I do think you'll see more of September. There are two more books planned at this time.
Me:  As authors, we all have different hopes for each of our books, aside from wanting them to be successful. In your writer's heart and mind, what does success look like for Lost and Found?
Amy:  Success would be readers enjoying the book, and saying so. It would be having them better understand their dogs' behavior, realize that cats CAN be trained. And having readers ask…no, demand…to know what happens next.
Me: Yeah, that'll always be the most excellent reaction from a reader, won't it? I understand you have a giveaway for Lost and Found on Goodreads.com. Want to share more about that?
Amy:  Thanks for asking! Yes, here's the link. I will give away three copies of the paperback, and happily autograph the books to the winners–or paw-tograph to their favorite pets. The giveaway runs from September 1 to November 15. Simply follow the link, click "enter to win" and fill in your mailing address. The book releases today on Kindle for those who can't wait, and will be available in all eBook formats and print shortly thereafter.
Me:  What other events and appearances do you have scheduled to support "Lost and Found?" Anything else you'd like your readers to know about you, your newest book or your career?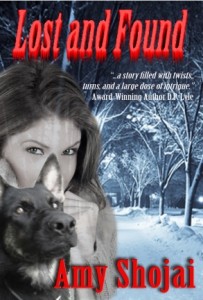 Amy: I'll be appearing thither and yon on a variety of blogs between now and the first of the year. A book launch and autograph party happens locally in Sherman, Texas in mid-October – date to be determined, because I'm scheduled around a musical play co-written with a friend, that we're performing earlier that month. And I'll be speaking at the 20th Anniversary Cat Writers Association Conference the first weekend of November in Los Angeles, and signing books, as well as in Houston the first weekend of January at the Houston Cat Club Cat Show.
Me: Amy, as an author myself, I know what a thrill it is to see and hold your newest book. It never gets old, does it? But I think sometimes readers believe that once we get published, all our books will be bestsellers. If only, right? In reality, we all depend on our readers to support our books by helping us create the buzz they need to get attention. I understand you've created an easy-to-follow list of helpful things readers can do to help promote your books. Can we share that here?
Amy:  Sure thing. I appreciate every little bit of support from my readers, and here are a few tips to make it easy for them to help get the word out if they like my books:
READER-ICITY RULES FOR GETTING BOOKS NOTICED
"Like" the author page. Here's mine on Amazon.
"Tag" it. These are descriptive words or phrases that help others find the book when they search for it. (On the book page, type TT to open the tag box, highlight the tags and copy into the box, and save).
Read it. Love it. Hate it. Talk about it. Share with friends. Argue about it. Get hissed-off about it. Wag about it. Say it's GRREEEAAAT! Say it SSSSSUCKS! And then . . . .
Review it (on Amazon, GoodReads, Barnes & Noble, your blog, etc.) ONLY IF YOU REALLY READ IT!
Me:  Great tips! Thanks, Amy, for the interesting interview. And I understand you've got a free eCopy of Lost & Found to give away to one lucky reader of this blog — how generous! So, readers, here's how to enter our giveaway for a FREE EBOOK of AMY SHOJAI'S NEW THRILLER, LOST and FOUND:
Watch the book trailer at the beginning of this post and LISTEN CAREFULLY to the narrator, September, explain her story.
Go to the Contact Form of my blog.
Send me a message with the Subject line: I want to be Lost and Found!
In the message field, tell me something that New York Times bestselling author James Rollins has to say about Lost & Found — it's in the book trailer.
Of all the correct entries received by midnight on Sunday, September 30, a random name will be pulled from a hat to receive a FREE eCopy of Lost & Found, directly from author Amy Shojai. (Your entry into this contest constitutes your permission for me to share your contact information with Amy.)
So ENTER NOW, and you'll be one step closer to the edge of your seat with Amy, September and one really smart dog.