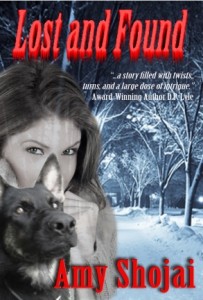 Okay, y'all (stop it, I'm allowed! My interview subject is a Texan!) – I'm very excited to be sharing with you the first half of an info-packed interview I recently did with an author whose work I admire, and who just happens to be one of the funniest, most interesting and truly sweetest people I know. Oh, and she also happens to be a bestselling author, did I mention that?
Amy Shojai is a certified animal behavior consultant, and the award-winning author of 24 bestselling pet books that cover furry babies to old-fogies, first aid to natural healing, and behavior/training to Chicken Soup-icity. I met her at my first conference with the Cat Writers Association, which she founded and still supports with gusto. (Come to think of it, there ain't much Amy DOESN'T do with gusto!) You can learn more about Amy at her website, where you'll also find her blog, Bling, Bitches & Blood. She'll explain the title when you get there.
For now, I asked her a few questions about her newest book, Lost and Found, which is her first foray into fiction. But to be honest, I got to read an excerpt, and you'll never know Amy's not a veteran master at the thriller genre.
WOW! I can't WAIT to read the rest of this great debut novel when it comes out in eBook on the 20th of this month (print fans, you'll need to wait another week, but hang in there…)! She skillfully blends her background as an animal behavior consultant with her storytelling abilities, to weave a tale you'll have a hard time putting down. But in the interests of "show, don't tell," I'm gonna stop here and let the interview speak for itself:
Me: We know it's not your first author rodeo, with all your terrific nonfiction books out there enlightening the world, but Lost and Found is your first novel, right? Why a novel at this point in your career?
Amy: Yes, this is my debut fiction and I'm "thrilled" to be launched as a thriller author. The dirty li'l secret is that I first started out wanting to write fiction, and I couldn't get published. Yes, I have five complete novels, plus one partial, under the virtual bed that will never see the light of day! Meanwhile, as I tried to write and publish fiction and submitted to agents, my nonfiction articles – and then a couple of books – were published. One of the agents I pitched for a novel said, "No thanks…but show me your nonfiction." After that, I became so busy paying bills with the nonfiction (no complaints there!) that the fiction writing sat on the back burner, literally, for years.
Today, though – as you know – publishing has changed. It has especially affected the nonfiction, prescriptive types of pet books that I write. So I've needed to find new ways to get the furry message out there, and fiction seemed a fun and innovative way to do this.
Me: And why the thriller genre? Those of us who know you think of your Southern charm, your bright, bubbly personality – not necessarily the kind of brooding writer you'd expect to produce a thriller. What was your intent as an author in using this approach and format? Or perhaps it's more correct to ask why you felt this format best served your story's needs?
Amy: What a great question – and I'm flattered. You've a hefty dose of charm yourownself. <smile> Maybe I'm a twisted personality. Those other under-the-bed novels were horror, or probably more accurately, psychological thrillers. That's what I read, that's what I enjoy, so that's what I write.
A novel must pose a question, and challenge the characters to answer that question. How that's done somewhat defines the genre. A mystery presents a body at the beginning of the book, and asks, "Who dunnit?" A thriller may do that, but often shows the dirty deed, so readers know "who dunnit" and the question becomes "why dunnit?"
While I'm not a fan of being scared in real life, or the blood-and-gore school of storytelling, a rollercoaster ride via a great plot and characters I can root for offers all the vicarious spills and chills without the risk.
Me: I LOVE the fact that the excerpt from your book is written from Shadow's point of view. Is the rest of the book written that way? How did you decide which POV to use?
Amy: Thank you! My early readers have without exception noted that Shadow's chapters are their favorites. He's a nine-month-old German shepherd pup, and a service dog (in training) to an autistic child. Part of the reason for the dog point of view was that I hadn't a clue how to write the point of view of an autistic child and didn't feel comfortable trying. So any time the little boy is "on stage" in the book with the dog, it's from Shadow's viewpoint. There also are chapters in dog viewpoint to offer insights into the story that the human characters couldn't possibley know – through scent, for example.
I've always "imagined" what my dog and cat might be thinking, and there's nobody to tell me I'm wrong. <grin> I think most pet lovers do that to some extent. I could also do this from the background of my pet behavior expertise and debunk some common misconceptions, while shining a light on other pet realities. I very much wanted to include animal companions in the story, in part because it's a way to "edu-tain" readers about dog (and cat) behavior and care, without a dry lecture.
And yes, there's also a hero cat in the story, although this book doesn't feature a cat viewpoint. Maybe that will happen in future books. But in this story, the cat is a trained kitty and figures prominently in kicking bad-guy-assets at the end of the book.
LOST AND FOUND is very much Shadow's story, probably as much as anyone's.  His viewpoint is featured in one-third or more of the book. I consciously alternated viewpoint characters between the humans and the dog. Just as the human characters have a story "goal" and character arc, so does Shadow. He wants to belong and be loved, he wants to be a "good-dog" more than life itself, and being a good-dog means obeying and following the rules of the people he adores. But what if that gets in the way? What if the people are wrong – in his estimate? What's a good-dog to do?
Me: Yeah, that's a fantastic point of conflict to propel the story forward! And the whole concept of Lost and Found makes it such a groundbreaking book in several ways: Your first thriller, a dog's POV without it being a humorous approach, and one of the main characters an autistic child. Where did the idea for this novel come from?
Amy: LOST AND FOUND was more than three years in the making. I wanted the main character to be an animal behaviorist or trainer, and to include a dog and/or a cat. But the main character, September (yes, that's her name!) needed to train more than puppy manners. I've interviewed trainers of service animals, and my own dog's breeder has placed autistic service dogs. Once one notion came to  mind, the others followed. Also, the most interesting characters to me are damaged, too, which means they must overcome internal and/or external obstacles to succeed. September suffers from Post-Traumatic Stress, and hates the thought of leaving her safe, secure home but goes out in the blizzard anyway to find her lost nephew.
Me: As you know, in my own book Almost Perfect: Disabled Pets and The People Who Love Them, we strive to build awareness that special needs pets can lead whole, happy lives even though they may not have the same abilities as most animals. I get the feeling from the excerpt that with Lost and Found, you had to deal with that on two levels: It seems you had to straddle the line concerning how people perceive both canine cognitive abilities and how they misunderstand the cognitive dissonance that may be occurring in the minds and senses of those living with autism. In researching your novel, what most surprised you about your own understanding of autism, and as a writer, how did you leverage what your animal behaviorist self knows about the way dogs interact with and respond to their humans in service to the story?
Amy: Wow. Let me think on that. I'm not sure that I'm able to fully understand how autistic people feel or think, but I am able to observe behaviors. The child character, Steven, is reported pretty much as observation – by the dog, Shadow. So I pretty much avoided – or tried to, anyway – making my own assumptions about what might or might not be happening regarding Steven. Instead, the story has the dog interpreting (correctly or in error, from his own canine perspective) what Steven's actions and reactions mean. Therefore, when Steven claps his hands over his ears, Shadow can relate because he also wishes hands could cover his own ears to muffle too-loud noises.
What most surprised me was that one of my beta readers told me that I nailed the autistic child and adult Asperger character, as far as behavior and dialogue. Wow. This is a teacher who works with autistic children and also lives with a daughter partnered with a service dog.
END OF PART I
Isn't this a fascinating interview? I'm learning a lot about novel craft as an author working on her own first novel! I hope you're getting as much out of our conversation with Amy Shojai, and hope you'll be back to join us here for Part II of this engaging interview!