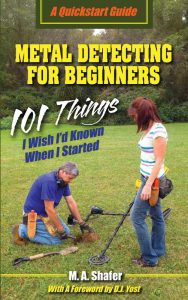 This is my latest book, about my favorite hobby and growing passion. When I started metal detecting in 2004, Facebook wasn't really a thing for most people. There were few places on the Internet to find information about how to get started in this fascinating hobby. Those came later, and I didn't know anyone to talk to. So I looked for books for beginners, but couldn't find any of those, either. They were out there, but still only carried by detector shops or sold in specialty magazines. As a rank newbie, I didn't know any of those things existed, and they still weren't advertising on the Web.
A dozen years later, I found myself still feeling like a newbie, but beginning to feel the confidence of the experience I had under my belt. I saw beginners just like I had been, struggling to even guess how to start. It occurred to me that it was time for a helpful guide that was general in nature—including potential detecting locations, machines and types of hunting—but still brief enough not to be a daunting read. After all, no one wants to wade through a huge tome before getting out in the field to swing their detectors.
Since I'm a writer by trade, I realized I needed to apply the number one rule of authorship: Write the book you wish you could have read. And I needed to do it before I forgot what it was like to be a beginner. So here it is: short and sweet…so you can dive in, devour it, and then get out swinging your detector! Published April, 2016.
Retail: $7.95 / 6×9 softcover / 108 pp. / 2 B&W line illustrations / 7 B&W photos / ISBN:978-0-9771329-8-0
Learn More… Available in Print and eBook – BUY NOW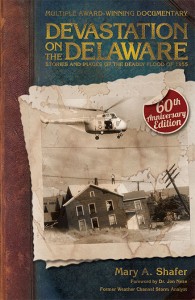 This is my most well-known book, at least locally. Originally published in October, 2005, Devastation sold out its first edition's entire initial printing in 42 days. In the wake of the tragedy following Hurricanes Katrina, Rita and Wilma, hurricane-caused flooding was on everyone's mind, and they just couldn't get enough. Then the Delaware River was subsequently hit with three new major floods within 21 months. Between September, 2004 and July, 2006, the book gained new relevance. Now in its revised, updated third edition, Devastation has sold in excess of 6,500 copies. Published August, 2015.
Notable Book of 2005 – Writers' Notes Magazine's book awards
Finalist, 2 categories – USABookNews 2006 Book of the Year awards
Finalist, Best History Title & Best Regional Nonfiction – 2011 National Indie Excellence Awards
Retail: $19.95 / 6×9 Softcover / 470 pp. / 126 photos / 32 maps / ISBN: 978-0-9771329-0-4
Learn More… Available in Print and eBook – BUY NOW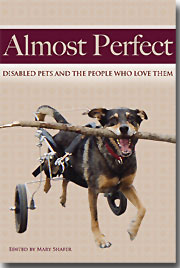 In a world that reveres perfection and disdains anything less, most of us realize that nothing and no one can truly measure up. Yet, when it comes to choosing companion animals, most folks won't settle for an animal with challenges. This is an anthology of 11 true stories about animals who—through birth or injury—have been rendered less than perfect, and the humans who found love enough to welcome them into their hearts and homes. Almost Perfect allows you to share the immeasurable rewards those people found. True stories of inspiration by eleven authors from three countries. I contributed the anchor essay and edited this anthology. It was published by Enspirio House, an imprint of Word Forge Books, my independent press. Published October, 2008.
Retail: $12.95 / 6×9 softcover / 128 pp. / 25 photos / ISBN: 978-0-9771329-2-8
Learn More… Available in Print and eBook – BUY NOW
Six nostalgic essays accompany several dozen richly captioned historical photos from the Library of Congress, many never before published. I really enjoyed researching and writing this affectionate look at our country before the industrial revolution changed it forever. I'm proud that Rural America garnered 1995's "Best Book In One or Two Colors" award from the MidAmerica Publishers Association. Originally published in 1995 by Willow Creek Press, it's currently out of print but available at Amazon.com. I'm also working on bringing it back in softcover.
Retail: $29.95 / 10×9 hardcover with dust jacket / 144 pp. / 152 historical B&W photos / ISBN: 1-5722302-1-5
Hardcover out of Print but available used – BUY NOW
This title is in the process of being reissued in softcover – please check back soon!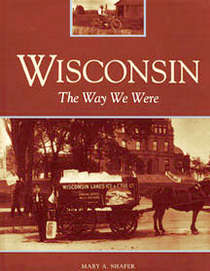 This was my debut book, originally published in 1993 by Heartland Press. They took a chance on me as an unknown author, and I returned the favor by writing a hardcover regional history that went into three printings and sold 15,000 copies—not too shabby for a first-time author with a tiny publishing house, if I say so myself. This book focuses on the people, places, experiences, challenges and pastimes that made Wisconsin a remarkable place to live and to visit. My editor said about it: "The Badger State's first century of statehood is remembered with the fervor of a sports fan, balanced by the keen eye of a news reporter." Currently out of print, but available at Amazon.com, and I'm soon bringing it back out in softcover.
Retail: $19.95 / 9×12 hardcover with dust jacket / 144 pp. / 133 historical B&W photos / ISBN: 1-5597115-6-6
Hardcover out of Print but available used.
This title is in the process of being reissued in softcover – please check back soon!
A Place to Which We Belong:
Wisconsin Writers on Wisconsin Landscapes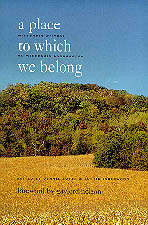 Mary's essay "Suspended Animation," written while she lived in northern Wisconsin in the early 1990s, appears in this anthology. Published in 1998, the book was a fundraiser for the environmental group 1000 Friends of Wisconsin. Wonderfully wide-ranging yet united by a common theme, the chapters include intimate contemplations of lakes or gardens and big-picture overviews of science, politics, and land use. Currently out of print, but available through Amazon.com.
Retail: $19.95 / 6×9 softcover / 144 pp. / 3 B&W line illustrations / ISBN: 0-9666359-0-6
Out of Print but available used.
Books illustrated by Mary Shafer
Yes, in another lifetime, I illustrated books instead of writing them. Here they are:
Who Lives Here?
A series of four coloring guides to wild animal habitats

Written by Dawn Baumann Brunke, Published 1993. Now out of print but available at Amazon. Soon to be republished as a single combined edition.
Gold Town to Ghost Town: Boom and Bust on Rainy Lake
Written by David Perry, originally published 1992. In addition to illustrating it, I also edited this book. The original acrylic painting that appears on the cover is now framed and hangs in the visitor center at Voyageurs National Park in northern Minnesota, where the book was originally sold. The book was re-issued in 1996 and is now out of print, but you can still find it on Amazon.

Round River
Written by environmental visionary Aldo Leopold. Originally published by Oxford University Press in 1953, five years after Leopold's death, this nature classic was revived by the author's son, Luna, and re-issued in 1991 as an illustrated hardcover. I worked at the time as the art director at NorthWord Press (long since acquired multiple times by larger publishers), which was publishing the book, and so had the honor of being able to illustrate one of the all-time classics of outdoor literature in traditional pen-and-ink style. I'm very proud of this work. It's now out of print, but if you have a few hundred dollars lying around, you can still get a copy of this hardcover edition.
Open Spaces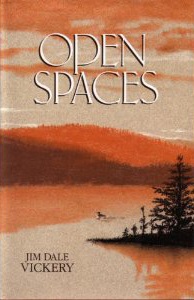 Written by Jim Dale Vickery, published 1991. I illustrated the cover for this one. Out of print but available online.
SaveSave