This is another legacy blog post from April, 2009: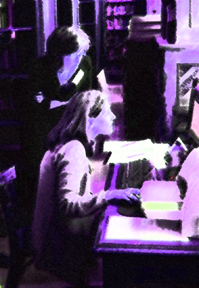 As promised, here are some tips on starting out with historical research:
Local Media Sources – It seems a no-brainer that you'd start your research with media outlets that exist today, especially if they were around during the event you've decided to chronicle in your book. That's certainly what I believed. I looked forward, too, to talking with other professional writers and journalists at our regional newspapers and other outlets.
Sadly, I discovered that certain of our regional newspapers — the Easton Express-Times being the most egregious — were unwilling to let me use their photos, even though I offered payment for that right. The EE-T re-publishes their own photo essay on the flood of '55 every 25 years on the anniversary, and somehow felt that allowing me to use those shots would lessen their sales, I guess.
Stupid, because that original booklet, published about a week after the flood, was what started my whole interest in the subject. I would have GLADLY included a page in my book promoting their booklet as a great addition to anyone's flood collection, because obviously I couldn't include all those photos in my book. Not only was this very short-sighted and promotionally retarded on their part, but I also think it was a real evasion of their responsibilities as a keeper of important historical public records.
On a more positive note, several other papers, such as the Pocono Observer-Record, was fantastic and very helpful. More than one staffer there went out of their way to help me make this the best book it could be. I'm grateful for their interest, help and dedication to their craft.
Regional Sources – Running into that roadblock, I had to depend on other sources for the images I'd use in my book. So, I got creative. I put out a call for people along the river to let me know they had private photos. It was a huge task, with many related efforts:
I put out several press releases to newspapers from Trenton to Port Jervis on both sides of the river.
I posted requests on some websites including those for historical societies and any private historical groups located in those areas (Craigslist would be a good one.)
I wrote to some historical societies in the affected regions with my requests, and that was productive. Many referrals to members and then those members referred me to friends and acquaintances they knew had photos and old newspapers, etc.
I also put up posters in as many communities as I could get to in the affected areas.
One element I will add next time I'm doing this kind of research is a website about the project. I'll make sure it has lots of relevant keywords and phrases that people might search on for that subject. Then I'll post my requests on there.
I'll also blog regularly there on the progress of my project. This creates activity on your site and that excites the search engine crawlers to pay attention to you and rank you much higher than a static site.
A nice by-product of this kind of blog is that it makes people aware of what you're doing and creates automatic customers of your regular blog visitors when your book comes out. They will have followed you from the beginning and have a sense of personal investment in the success of your project.
This is called "platform building," and any publisher you talk with will want to know what kind of promotional platform you have before they commit to your project.
With any historic nonfiction project, don't overlook any group where older folks congregate: civic organizations (Kiwanis, Lions, Knights of Columbus, etc.), church groups, senior centers, book clubs and reading groups in retirement villages, etc. Call them and send a request letter to be published on their website and in their newsletter.
Not only will you find many people to interview in these places, you'll also find they're enthusiastic about what you're doing. They'll be excited that someone cares about something they personally remember, and will lead you to all kinds of other interview subjects and people with archival letters, diaries, photos, etc.