This post originally appeared on my legacy blog on April 11, 2009: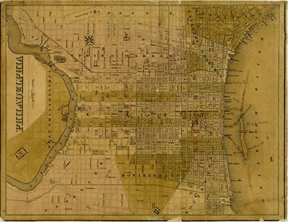 Revisiting Amanda G.'s discussion forum post, she asked:
 How do I get maps of old towns that no longer exist?
That could probably be a little tricky. Depending on how old the towns were at the time they disappeared, there are a number of places you might look for maps. Here are a few ideas:
Historical societies are often the best place to start. Find the "keepers of the collections" and you've likely identified the people who not only know best what the collections include, but also about other resources you can consult, like other people and their personal archives. The trick is to really let them know you value and respect their vast knowledge.
Municipal or county clerks or recorders of deeds — depends on the town. They have official records of any properties that ever existed in their area of authority.
Public Libraries – They usually have a local history collection, and I have made some of my most interesting and surprising primary source finds in these. Make sure you as for the reference librarian, not just a page or front desk worker. You want someone who knows that collection up and down.
University and college libraries – They often have collections donated by alumni and other individuals in their immediate communities. East Stroudsburg University has lots of info on the flood of '55. The public library there has an awesome local history collection, and I'm thinking this would be your best bet.
Government Agencies – If you're researching an area now encompassed by a national park, recreation area or other official preservation designation, the National Park Service will be a primary resource for you. They always have vast historical archives, usually have designated park historians (who are almost always obsessive about their subject). They'll likely have lots of maps, photos and other visuals available. They'll also want to stock your book in their visitor center gift shop when it comes out!
Secondary sources – Though this isn't always the case, often if you're looking for a map to an old place that no longer exists, you're not the only one looking. It's likely others before you have wondered the same thing, and sometimes were persistent enough to find what they were looking for. This helps you, because they've already done the work. So don't pooh-pooh secondary sources as legitimate places to do some research. No use reinventing the wheel if it's not necessary – remember, work smart, and you won't have to work so hard. Think of other people who may have need of the same map you're seeking, and try them first, before launching off on your own search. Lots of people need or want locator maps for now-extinct municipalities: land surveyors, real estate developers, fossil fuel energy companies, metal detectorists. See if maybe they haven't already done the work for you!
This is by no means an exhaustive list of sources for research, but it's a good starting point. Good luck to everyone taking on such a project. It's a worthwhile effort, but a challenging one.