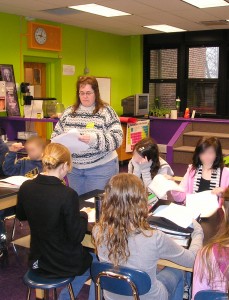 If you're hoping to promote your book to schools, several good things may happen:
Teachers get interested in using your book as a classroom text that will be required reading for all their students. If they do get enthused about your book, they will talk to each other about it and may start a sales chain reaction: Teachers are the original viral marketers. This will result in direct volume sales to these classrooms.
What happens at one school could create the requirement of your book as a text district-wide, resulting in possible volume sales to several schools.
Your book isn't required as a text, but it gets used by the teachers as part of their content. More about this later.
Your book may or may not get picked up as a text, but you or your author gets invited to speak to a single classroom, multiple classrooms, or even to an assembly. This usually results in an opportunity to sell your book afterwards.
There's no guarantee that any of these will occur, but I guarantee that none of them will if you don't learn the proper way to approach schools about your book.
Understand the Culture
First, understand that academia is all about hierarchy and chain of command. If you don't know who to approach, you can doom your efforts from the start. So learn how your state's school districts are set up, and who makes the decisions about textbook buying. It can vary widely, but usually it's some version of certain texts being required at either state or district level, then some local — whole school or classroom level — control for individual titles.
You could research this on the Web or at your local library, but there's an easier way: If you have kids in school and a decent rapport with one of their teachers, simply ask. Any teacher who's been around for more than a year should be able to tell you how this works in your state. Another option is to ask your local public or school librarian. Either one should be familiar with your state's setup.
Manage Your Expectations
Knowing this protocol won't help you sell at the statewide level. Unless you're a fairly large publisher with a dedicated sales staff that knows the ropes, that's a losing battle if you're coming from outside the system. But what this knowledge will do is tell you the general attitude about textbooks, and how much leverage you might be able to exert at the local or regional district level. Managing these expectations for your efforts is key to being able to maintain them for any length of time.
Generally, you're looking at a structure something like this:
State DOE > Regional Administrative Unit (optional for larger districts) > School District > Individual Schools. There will be a school board somewhere along this line, made up of local officials, parents and businesspeople. It may be at the regional (admin unit), local (district) or — in the case of really rural areas — the individual school level. For the small, independent publisher or self-published author (who is also an independent publisher), this board is who you want to make friends with, because ultimately, they will make the decision about whether your book gets exposure in the schools they govern.
Gain Advocates
Yes, you can and absolutely should approach teachers directly with your ideas, because they are going to be your strongest advocate if they believe in the power of your book to help them teach kids. But it's fairly uncommon for teachers to have the discretion to simply adopt your book as a classroom teaching aid without first running it past at least some kind of content approval committee, if not the school board. It's not unheard of, but it's not common.
First Impressions Count
Once you've determined who to approach, prepare a professionally produced package to send them. This should include a cover letter attached to a promo kit (your press kit, but slanted specifically to appeal to teachers), and a free reading copy of the book. If you can't afford to give out that many free copies without knowing it has a good chance of selling more books, at least include a 4 x 6 postcard with some check-offs stating that the teacher wants more information or to request a reading copy (count on it — they will if at all interested) that they can send back to you.
Obviously, the hope is that you'll be able to sell volumes of your book to classrooms, but it may not work that way. You may only be able to sell copies to the teachers, who will teach from it without requiring students to read it. This is not ideal, but it's not a bad thing, either. With a teacher  in front of a class talking about your book for almost an hour (and maybe more, if you create a multi-class teaching unit) there are bound to be at least a few kids in each class who go out and buy the book. From there, it can turn into Referral City — the best possible kind of promotion!
Next: Meeting Curriculum Standards