It's been a busy couple of weeks here at the offices of The Word Forge (my marketing consultancy) and Word Forge Books, my publishing company.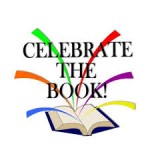 Last weekend, I attended the "Celebrate the Book" Festival in Carlisle, Pennsylvania. I think it's the fourth time I've done this show, and I always enjoy it. Not only does it give me an excuse to travel back toward my old stomping grounds of central PA—beautiful any time of year, but especially in the colorful fall, and even more so when the early morning drive usually provides a stunning vista of rolling farmland with a huge harvest moon hanging overhead (sorry, no photos — I was driving alone)–but it's always a wonderfully produced show, with great floor staff and good organization. If you've ever exhibited at any kind of show like this, you'll appreciate what I mean. And this year, it was held in a larger, more modern and more well-lighted venue, so that's always fun to experience a new place.
Then yesterday, I christened my new author/publisher consulting business with its first exhibit table at the First Annual Pocono Writers Conference. That was also fun — got to participate in the day-long, multiple panel discussions with a nice array of professional writers, while introducing my new Indie Navigator consulting service to attendees. And for a first-time event, it was well put together and covered a lot of ground in writing-related topics. Thanks os much to fantasy author Michael Ventrella for organizing the event, and to the Eastern Monroe Public Library for hosting.
All this activity reminds me of one of the things I love best about being a writer: the fellowship. As with any group that develops around a common interest, writers are a varied lot, often with just that one thing in common. But writing is one of those pursuits that's most often longer on intrinsic personal value than commercial remuneration, so those who heed its calling tend to be a passionate bunch. And I love that.
Writers have something of a reputation as egotists and poseurs, and to be sure, those people definitely have their place among our ranks. But my personal experience when meeting other writers at conferences and author events and book festivals is most often one of cordial give-and-take among a group of uncommonly kind and generous people genuinely interested in supporting each other. I have had the same experience among independent publishers, especially at large industry gathering like Book Expo America. I truly believe there is no more giving trade group than the people in indie publishing.
This may be true in other industries, I don't know. I never really got that involved in such trade groups when I worked in advertising or graphic design. Or auto mechanics or law enforcement for that matter…but I digress.
My point is that, while writers necessarily spend a great deal of time working in a solitary environment that offers little opportunity for social interplay, writers' conferences, workshops and author events offer that chance on an intense level. I have learned over the years to take advantage of such opportunities when they present themselves, because it's not just a matter of catching up on the latest industry trends and other things I should be professionally aware of; it's also a rare chance to interact on a social and professional level with others who've chose this solitary pursuit, as well. And that's solid gold.
An excellent example is just such an author event I had the good fortune to attend, Local Authors Night hosted by the Barnes & Noble situated between Easton and Bethlehem, Pennsylvania. I got to gather with 50 of my regional scribbler brethren at the busy venue to sell and sign our books and to visit with those who purchased them. It wasn't a boffo sales coup, but I didn't care. I happened to have the good fortune to be seated next to bestselling psycho crime author Katherine Ramsland, whom I'd wanted to meet for years. We had a great time chatting and getting to know each other (she's a weather freak, too — who knew?), and exchanged our latest books. Then, she graciously invited me to guest post on her fantastic blog!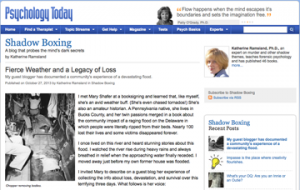 So today, I'm sharing that with you here, with the reminder that all authors, however successful, started somewhere and are people just like you and me. And many — even most — of them remember that, even when they're busy enjoying their rewards, and reach down to help the rest of us up to their level. Just one of the many reasons I love being a writer.