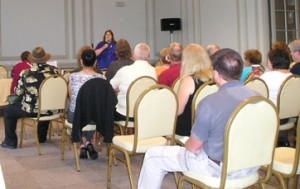 The biggest difference I notice between a wannabe author and one who's actually got a book out, or between a successful author (i.e., one who's making sales and has a good chance for a second book contract) and one who's struggling to get her/his book into readers' hands and having to accept that there won't be another contract offered, is simple: Successful authors understand that they MUST participate fully in the promotion and marketing of their own book to AT LEAST the extent that their publisher does, and likely more. Struggling authors believe that somehow, there's someone else who can do a better job representing their work than they can.
Though in "olden times" — say, 20 years ago or more — this was a common and even acceptable attitude among most authors, it was never true. Ever. No one has EVER been able to be a more passionate advocate of an author's work than the author him/herself. And I'll go so far as to say that if it ever WAS the case, then that person should not have been the author of that book.
Whoever is the most passionate person about the book's topic should be the one writing about it, or at least hiring a good ghostwriter. But if you feel moved enough by your topic — be it a nonfiction subject or a fictional story — to invest the time and effort it takes to write a book about it, YOU are the one who should be doing the bulk of your book's promotion.
Why? Because book promotion and marketing is a long-haul effort. It lasts forever. And the only person who's going to be able to muster the enthusiasm it takes to sustain that effort is the one with enough passion to have written a book about it. Yes, you can hire publicists to help you, and maybe you should. But the messaging must come from you. The right words to the right crowds must originate with you.
Seriously.
Look, I'm a writer and author, too. I KNOW that what brought you to the legal pad, typewriter or computer keyboard to capture your story wasn't the desire to turn into a marketing guru. I get that. You love your topic and you love to write. You never intended to become a pitch person. But the cold, hard fact is that we all live in a world that's very different from what it used to be. Nowhere is this more true than in the book publishing world.
The publishing landscape is no longer littered with small, medium and large publishing houses. Much like what's going on in our economic stratification in the US, the "middle class" is fast disappearing. Basically, in the publishing "boom years" of the 70s, 80s and early 90s, it did look that way. But then a wave of corporate greed led some of the large, well-established houses to go into a frenzy of acquisition. Much like the movie "Wall Street," these houses often cannibalized the backlists of these mid-sized houses, keeping and exploiting the best-selling titles and authors and essentially abandoning the rest.
During this same process, in an effort to cut costs and increase profitability, many excellent editors and other staff responsible for grooming and supporting authors were fired and never replaced. The editors who stayed on were forced to take on way too much production work, so much of their direct work with authors was forced to fall by the wayside. Many authors found themselves "orphaned" — without the editors they were comfortable working with, who had championed and shaped their work — and many of those ended up falling by the wayside, too. They weren't offered any more contracts, because their work hadn't proven to be a cash cow.
And now there are very few true mid-sized publishers left. There are mainly The Big Six — those now behemoth houses that swallowed so many of their smaller brethren in the merger-and-acquisition madness — and the rest of us.
And that reality means every author must be his or her work's own best advocate. Even if you have a really dedicated agent, all those folks can do is get your foot in the door and try to negotiate the best deal for you regarding compensation. Yes, they can negotiate marketing points, but the truth is, if the publisher doesn't want to support your work after publication for whatever reason, it's very difficult if not impossible to force them to do so. So YOU are the one who will be doing it.
Even if your publisher does provide decent promotional support, you still need to be the one out there acting as the face of your book. Your readers don't want to see and meet your agent, your editor or your publisher. They want to meet and talk with YOU, the person whose work touched them in some way. That has always been true, and it hasn't changed.
The other reality is that today's reading public is far more sophisticated, demanding, picky and splintered than it ever was before, especially when you add in the whole e-book phenomenon. If there ever was such a thing as "everyone" where readership is concerned — and I vote "no" on that point — it's long gone. This means that the old concept of writing your manuscript, turning it in to the publisher, then retiring back to your chair in front of your keyboard is also gone.
Your publisher can't possibly know your intended reading audience as well as you do. They may not know where these people gather and how to talk with them in the most effective way to charge them up about reading your book. Technology has allowed special interest groups to find each other and stay in touch, which is great. But that means there's no efficient way of your publisher reaching them all efficiently with the kind of basic campaigns they're capable of running. So, once again, it's up to you.
I can hear the arguments now: "But I'm a writer, not a marketer!" "I don't know anything about promotion!" "I'm a shy, retiring sort…that's why I chose to be a writer, so I can work alone." "I thought my publisher was going to take care of that!" And on and on.
Well, I hate to break it to ya, folks, but even back when publishers had budgets big enough to hire hotshot publicity teams, they never did it for any but their A-List authors. Think Stephen King and Ann Rice. If you're a newbie, you haven't proven your worth to the publisher yet, so aside from a press release and — if you're lucky — a book website with a digital press kit, you're probably on your own.
I know it's not what you want to hear, but it's the truth. Take a few moments to get over your anger, disillusionment and fear. I'll wait.
Okay, now that you're back in the real world, you know that the success of your book is going to depend almost entirely on you. Yes, you can request help from your publisher, and a good one will do what they can for you. But the truth is, you're just one of their authors, they likely have very limited staff and budgets, and your book's publicity isn't going to get any special treatment.
This isn't to indict publishers, at least not on the whole. I AM a publisher, so I understand the very real limitations they're up against. But they should provide at least the bare bones of a marketing plan and some of its major elements for you. Nevertheless, you're the one whose job it is to flesh it out and work that plan with your own time, presence and energy.
How to do it is the subject of vast — and some very good — books in their own right. But right now it's time for a gut check, authors:
If you're not willing to invest at LEAST as much energy, effort and enthusiasm into getting your book into readers' hands — and that's all that marketing and promotion is about — then why did you bother to write it?
I welcome comments here, or invite you to join the discussion on my Nabble forum.