Another legacy post from June 18, 2009: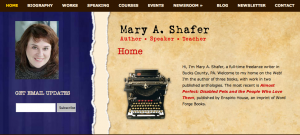 One thing that's really important for authors is understanding that the days of just writing your manuscript and turning it in on time are over. In this marketing-driven world, you must also be your book's most passionate, dedicated promoter. Your publisher will, at best, do only half the work required to get your book onto store shelves and into readers' hands.
This topic could cover several posts, but the one part you can easily do something about in your promo effort RIGHT NOW is to create a professional-looking, content-driven author website.
You can't expect anyone to take you seriously as an author without one. It's just like back in the 80s, when fax machines were new. At first, people asked, "Do you have a fax?" Then, within a few years, they just assumed you did and asked you for your fax number.
Now, people may still ask you, "Do you have a website?" But most of them will assume that, as a professional published author, you do have one. They'll just ask you for your URL or web address. Even unpublished authors should have a website, so they can build that all-important platform before approaching publishers with their book proposal.
But what to do if you're not an experienced web developer? Do you have to settle for some ugly, first-generation site your nephew might be able to crank out with FrontPage. Heaven forbid! No, you have options.
One thing is that you can become an Authors Guild member and take advantage of their wonderful hosting service. It provides a fairly feature-rich, web-based site builder, complete with attractive visual themes. You're looking at a website right now that was built this way.
Or you can go with another web hosting service such as GoDaddy.com or FatCow.com that also offers a web-based site builder.
But if you'd rather have a more feature-rich development application that you can use on any server (even with no experience and a small learning curve), then you may want to check out Joomla.
Joomla is a free, open-source, highly usable content management system you can use to build personal or business sites. It's a proven tool: Websites made with Joomla can be found in many sizes, varying from a few pages up to entire community websites containing 10,000+ pages.
But even this great little app requires some training. So if you're interested in using it, do what I'm doing: Take some video tutorials.
I've heard a lot about Joomla and have been wanting to learn, but haven't had the time to do a lot of reading. So I'm doing the time-saving thing and downloading detailed, easy-to-follow tutorials I can play right on my computer as I follow along in the actual application. JoomTorial.com has just what I need, at way reasonable prices. I consider it an investment not only in my author career, but also in my future, for any other sites I may want to build later on.
Whatever works for you, but this is the way to go for a busy multi-tasker like me. And best of all, I can still host my updated, Joomla-created site right here at AuthorsGuild.net! I can heartily endorse the tech support team here at AG — I'm a stickler for customer service, and can give these great folks two thumbs up for responsiveness, helpful, friendly attitude and knowing their stuff.
So jump right in and get yourself on the Web. Now there's no excuse not to!