I don't know any creative person who isn't curious about other people's creative process. I always love to visit other writers' workspaces, artists' studios, crafters' workrooms. I love to hear about their schedules, how they discipline their attention and divide their time to allow them to be most productive. I'm always interested in their little pre-work customs, the secret rites in which they engage to call forth the muse and bless their efforts. I even like to hear about other non-work rituals they enjoy away from the creative altar, that they do simply for enjoyment and to feed their hearts and souls.
I have some of those rituals myself, and it's appropriate, I think, to end the year sharing with you a pre-Christmas tradition my partner and I have developed over the past ten years. It's funny how these things come about. You do something once and the next year, remembering how you enjoyed it, you do it again, hoping to recreate the magic. Sometimes you can, sometimes not, but at some point you realize that in the effort, you've unwittingly created a tradition. And from then on, you consciously recognize and honor that tradition.
Ours begins with clearing our busy, not-very-often-in-sync schedules for an evening in the weeks before the holiday, after the tree is up and decorations are done. We try each year to choose from among the many fine, old inns and taverns in our beautiful Bucks County, Pennsylvania, and find one we haven't dined at before. We go online to see the menu and make sure there will be at least one or two options we like (neither of us is big on fish, and I'm not a huge Italian fan, so sometimes that's a little limiting), and make a reservation for two. We try to really go to the older stone inns, both for their ambience that usually includes a real fireplace, which so enhances that special holiday feeling, and to consciously keep our money in our local economy. We have tried a few newer style places here and there. We just always seem to gravitate back to the old ones, and fortunately for us, there are so many of those in our area.
We usually make an earlier dinner reservation for 6 or 6:30. This allows us to snag desirable seating in a not-yet-crowded dining room, and lets us enjoy a leisurely dinner with a special seasonal beverage beforehand, appetizers and our entrees, and sometimes even dessert, if we're not too full. Based on our choice of restaurant, we have decided ahead of time where we'll go afterward, which is always a bookstore. Our preference is to go to locally owned indie bookstores, but sadly their numbers are dwindling in our primarily rural region, so sometimes we must settle for a Barnes & Noble or other big box store.
So, appetites sated, off we go to the bookstore. Once inside, we head right for the children's section to take our time perusing the Christmas-themed titles. We look for stories that appeal to both children and adults, and length isn't really an issue. What IS paramount is that the book must offer a  good, ultimately uplifting story. It can have sad parts, as long as it ends happily. The secondary requirement is that it must be profusely illustrated with rich, beautiful pictures by a talented artist. If possible, we prefer it be a hardcover with dust jacket. It's the one time of year we indulge ourselves thusly.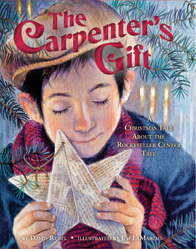 This year, we chose The Carpenters' Gift by David Rubel. It's about the birth of the tradition of placing a large Christmas tree in the square in front of New York's Rockefeller Center, and contains a touching message endorsed by Habitat for Humanity. Though we don't usually go in for "cause" books, this one was too hard to pass up, and even without the Habitat link, this story conveys a strong message about the true spirit of Christmas through engaging prose and beautiful pictures.
We then make our purchase and take it home. Sometimes we read it together, but most often it's late by the time we get home, and we save it to enjoy at leisure throughout the holiday season. So we add it to the growing collection we showcase proudly on our living room coffee table until the decorations come down. The colorful covers themselves create a festive area of holiday decor.
The best part of this ritual is that these gifts keep giving back to us every year, as we revisit them and their lovely, beckoning pages. The secondary gift is that we know we have contributed to our regional economy by enjoying a great meal at a deserving local restaurant; have contributed to the health of the book industry by buying a hardcover book; and usually contributed to the health of an indie bookstore by making our purchase there. It's a winner any way you look at it, and a tradition we now look forward to with great delight each year.
I wish you all an enjoyable holiday season, and a peaceful and prosperous New Year, and leave you with a reminder that the quality of the first draft isn't as important as the fact that you got it out of you and onto the page. That's what editors are for.
"Another damn'd thick, square book! Always, scribble, scribble, scribble — eh, Mr. Gibbon?"
– Duke of Cumberland to writer Edward Gibbon