Here's where you can read, in their own words, what some of Mary's clients have to say about her speaking performance in presentations and media interviews.
Media Interviews
"It was a pleasure welcoming you to Weather World to discuss Devastation on the Delaware. Our viewers are very knowledgeable about Pennsylvania weather history, and many of them could surely relate to the historic events that you relive in your fascinating book."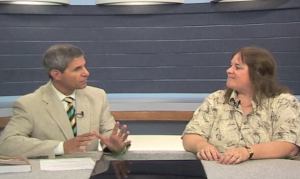 – Dr. Jon Nese, Host
"Weather World" TV Program
Penn State University Meteorology Dept.
_______________________________________________
 "I hope you enjoyed the interview as much as I did! It's always good when there are many more questions or directions than we have time for. And also AMAZING to get that many phone calls! I expect along the way, I will get more feedback about this show. I definitely would like to have you back again."
Rita Cleary, Host
Real Life Adventures show, WDVR 89.7FM
Sergeantsville, NJ
_______________________________________________
"You did a fine job on the show last night. Your voice has a great quality to it. Ever thought about doing radio? Thank you, again, for a fascinating appearance on Tempus. Many continued blessings to you and your work. See you in May."
John Cole, Host
Tempus, WDVR 89.7FM
Sergeantsville, NJ
_______________________________________________
"Thank you again for yesterday's interview! You're a perfect guest: passionate, always well-prepared and articulate about your topic. And a darn nice person, as well. I always enjoy it."
Rita Cleary, Host
Real Life Adventures show, WDVR 89.7FM
Sergeantsville, NJ
---
Publishing & Marketing Presentations
Presenter: Indie Publishing Intensive & Writing Narrative Nonfiction seminar
"The scuttlebutt was that you rocked! I could tell, as I stopped in, that your sessions were powerful. It was so good to work with you. Thanks!"
Brenda Havens, Co-Chair
The Write Stuff 2014 writers' conference
Greater Lehigh Valley Writers Group
_______________________________________________
Panelist: Traditional vs. Independent Publishing
"Thanks very much for your note and support of our little Expo. Your generous sharing of knowledge and experience of the panel and throughout the day was very helpful to many, I'm sure!"
Barbara J. Keiser, Director
Eastern Monroe Public Library
_______________________________________________
Lifting The Veil of Mystery: Marketing in the 21st Century
"As usual, you gave a very in-depth presentation filled with nuggets of wisdom. I really appreciate your focus on how we can help our authors become successful and create a social presence by creating their own website. Your presentation is invaluable! You might want to publish a book on this topic, because I am constantly meeting people who want to know how to market their books."
Gerald Curry, Publisher
Urban Voices magazine
Washington, DC
---
Devastation on the Delaware Narrated Digital Slide Presentation
"Mary Shafer recently spoke to the residents of Wesley Enhanced Living Doylestown.  Her review and discussion of the content of her book, Devastation on the Delaware, were well received by the attendees; she was both engaging and entertaining.  Her overview, along with the accompanying slides, had the complete attention of our residents.  They also appreciated the fact that she took the time to learn more about their personal experiences and memories of the flood of 1955.  We are looking forward to her next book and bringing her back to our community!"
Karen Doler, Programs Manager
Wesley Enhanced Living
Doylestown, PA
---
"Your presentation and discussion was such an informative and exciting program. I have told two different groups about your wonderful program, and am requesting you for our November meeting."
Valerie Mix
Young At Heart Planning Committee
Yardley, PA
_______________________________________________
"On behalf of everyone in attendance at the 'Devastation on the Delaware' event, I want to thank you for an outstanding program. Following the event, one individual remarked to me that it was one of the best programs that has ever been offered at the Grundy Library; I count the evening a success and I hope you do, too. I believe the audience was truly fascinated by the topic, and your storytelling-like manner of delivering the facts kept everyone engaged. The audience's collective gasp of surprise when you stated that the Boy Scout deaths at Treasure Island were a myth was memorable. While not easy to hear about so many deaths, thank you for sharing the truth of the story that has been confused by so many people over the years."
Barbara Gerhard
Grundy Memorial Library
Bristol, PA
_______________________________________________
"You were a fabulous speaker. Every historical society should have you!"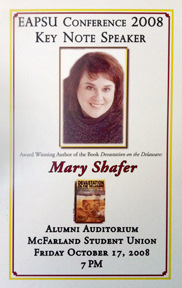 Maris C. Langford, Esquire
Plumsteadville Historical Society
_______________________________________________
"I'm so glad I heard about you and your program, because it was great! You are a most enthusiastic presenter, as well as a knowledgeable one. Thanks from all of us at the Springfield Township Historical Society."
Irene Heiland
Springtown, PA
_______________________________________________
"Thank you so much for your presentation at our firehouse last week. Those who attended all gave good reports on how much they enjoyed it and how educational it was. I've been asked by a couple of members who were absent how they could get the book."
Florence Cook
Point Pleasant, PA Fire Auxiliary
_______________________________________________
"Thank you again for a fantastic presentation! We all enjoyed it very much. One member said, 'She was well prepared and knew her material. We bought the book.' Another told me, 'I loved it! She made me laugh. She made me cry. Been reading the book and love it. Now, when i listen to the weather and hear about the high temperatures and hurricanes, I really pay attention.' "
Barbara May Kuehmstedt
Lower Bucks Genealogy Club • Langhorne, PA
_______________________________________________
"Just wanted to say thanks for a great presentation. I heard many good comments about your program. It was clear that you are very knowledgeable about your subject, but it was your sense of humor and storytelling that 'sold' the audience. I look forward to inviting you back to speak on other topics."
Lois Mangold, President
Friends of the Yardley-Makefield Library
_______________________________________________
"Your talk was just fabulous! Everyone enjoyed it, and your manner of presentation is delightful. You made the whole event come alive, and the details were so interesting. Thank you so much for giving your time and talent to our program. It was truly appreciated."
 Helen Wolf, Director
Continuing Learning in Retirement, Delaware Valley College
_______________________________________________ 
"Mary Shafer gave an outstanding presentation at our library, conveying the drama of the 1955 flooding of the Delaware River with stories and images of the event. The presentation was vivid and factual, as well as sensitive to the possibility that surviving family members of the deceased might be in the audience (which was the case)."
 Deb Faulkner
Adult Services Librarian
Indian Valley Public Library
_______________________________________________
"We very much appreciate the excellent job you did in giving your presentation for our 'Flood Safety and Awareness Week' recognition event. The audience was very captivated by your presentation and it made the day extra special. We also appreciated your cooperation and patience in the last-minute room change. With thanks —"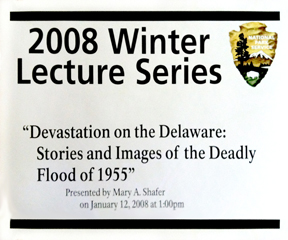 Rachel Hogan Carr
Director, Easton Flood Museum
Nurture Nature Center 
_______________________________________________
"Mary Shafer provided a compelling and highly visual presentation to fans and customers of the Pennsylvania State Bookstore this year. Her knowledge of the history of this natural (and man-made) disaster, along with personal insights and her experience as an emergency management member not only lent an air of authenticity, but one as an advocate for the region and its people. After hearing [and seeing] Mary's presentation, my only question is: "When will the audio version of her book be available?" She's an excellent speaker and provides a great mix of pathos and fact about the 1955 disaster that used the Delaware River as a bulldozer of earth and people, which scars remain over fifty years later."
Ted Walke
Pennsylvania Historical and Museum Commission
Publications & Sales Direct
_______________________________________________
"Thank you for a splendid presentation at yesterday's Kiwanis meeting. There were many, many compliments issued. Also, a personal "well done" with hard drives going south, a bunch of stuff to haul into the Pomfret Club, and a spirited delivery."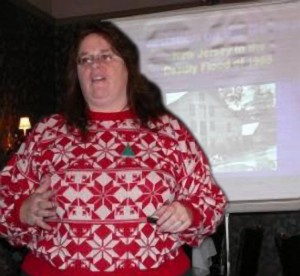 Lachlan Peeke
Easton Kiwanis Club
_______________________________________________
"Mary, thanks again. Your presentation was very well received and the residents enjoyed the evening."
Vicky Bradshaw
Activities Director
Pocono Lutheran Village
---
Miscellaneous Presentations
"People are still talking about the wonderful program you presented to the Forks Art Society!"
 Esther Tews, Program Chair
Forks Township Art Society 
_______________________________________________
"Mary Shafer gave our leadership seminar a compelling introduction to the potential impacts that flooding can have on a community. The combination of original photos, firsthand accounts and her extensive knowledge of the subject, created a memorable impression. Mary took time to work with me to customize her presentation to address topics particularly relevant to my class, generously sharing her background and resource ideas. Students found her engaging and interesting."
Laurie Rosenberg
Student Leadership Program
Northampton Community College