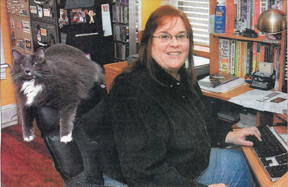 I occasionally send out an eNewsletter letting my readers know
when I have a new book or other project coming out
what I'm working on
current news about my books' topics
where and when I'll be appearing next for book events, teaching, speaking or other presentations
tidbits about fellow authors I think you'll be interested in
and any other relevant news about writing and publishing.
I won't be a pest — promise! — so why not give it a whirl? I don't spam or share your contact information with anyone, so you can feel safe signing up on my newsletter provider's secure service.